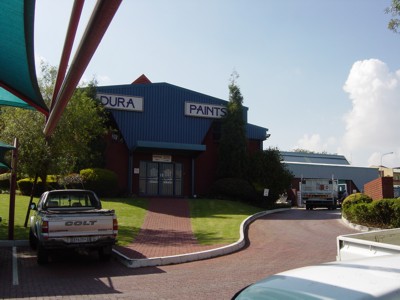 Established in 1986, Dura Paints (Pty) Ltd has grown to a leading South African manufacturer and distributor of quality, specialist coatings and preparation products. Our offering covers a comprehensive range of industrial coatings, decorative coatings, preparation products and field marking machines and liquids, all supported by leading edge technology.
Top-class Technical Expertise
We pride ourselves on the quality of our coatings. To support our products we have a team of highly qualified technical staff and a laboratory equipped with the latest equipment. We also offer on-site technical assistance.
Consistent Colour Matching
We have the best colour-matching systems available. We are able to tint most local and international colours with our advanced colour matching software and automated dispensing systems. Once we've matched a colour it is stored electronically for future orders.
Quality Statement
At Dura Paints, quality manifests itself in management, manufacturing, personnel and products. We are committed to world-class quality, superior customer support and outstanding value. We achieve this through innovation, customer satisfaction and operating under an ISO 9001:2015 Quality Management System. We are committed to excellence and continuous improvement through improving processes, the workplace and people. We have been proudly supplying the South African market for over 29 years – a clear testimony to our quality products and service. We stand by our products and believe that you will be more than satisfied.
World Class Products
Wedgewood Paints
A full range of decorative coatings for interior and exterior use, including plaster primers and roof paints.
Pro-Long
A wide range of preparation products including Waterproofing Products, Crack Fillers, Sealers, Surface Preparation Products, Woodcare Products, Tiling and Tile Care Products for professionals and DIY Customers who want a professional finish.
Futuretint
Retail paint tinting technology for industrial coatings and demanding production requirements. This hi-tech, automated, modular system is extremely accurate and fast.
Go Line Marking Systems
Machines and liquids for the marking out of sports fields and advertising on turf. Designed and manufactured in South Africa, by South Africans, for South African conditions. Environmentally friendly – used countrywide by leading stadia and schools for the marking out of sports fields. We carry a full range of spares and offer servicing.
Dura Industrial
A specialised range of high-quality solvent and water based coatings for industrial applications such as steel structures, concrete floors, IBR sheeting, manufactured goods as well as ferrous and non-ferrous metals. We also offer a full range of quality industrial solvents.
Lifestyle Colours
Decorative cement paints and plaster for both walls and floors, in a fashionable range of colours and effects, including Real Earth Textures and Silks, as well as Stone Cote and Stucco.